9/03/2004
Gavin Floyd Blog
10:17 AM:
Originally, The Missus and I were going to be heading down to Charleston for the Labor Day weekend, but
plans have changed
, so I'll be
watching
Gavin Floyd's debut tonight against the Mets instead. And at this late date, since I have nothing better to do, I've decided to blog in real-time tonight, updating during Floyd's start. So, if you are looking for an insightful perspective with a high degree of analytical commentary, look no further. Cancel your night out with your significant other, crack open an
adult beverage
, turn on the ballgame, mute the sound, and hit refresh every couple of minutes on your browser.
Disclaimer/Fine Print: I'm not saying I will actually have an insightful perspective with a high degree of analytical commentary, I'm just saying, look no further.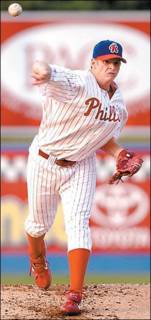 Gavin Floyd
6:15 PM
: The Missus gets home and announces she wants to go out to dinner. I explain that Gavin Floyd is debuting in the major leagues tonight, I'd like to see the game, if Gavin goes on to become a Hall of Famer in twenty years, I'd like to be able to say I saw him pitch his first game on TV. She is not impressed.
6:37 PM
: We are seated at a new Italian restaurant around the corner from our house by the hostess. Our waiter comes over and looks like
Hervé Villechaize
's slightly taller brother. The Missus is not amused when I point it out after he leaves.
7:05 PM
: I can only assume the first pitch is tossed.
7:58 PM
: On the way home I hear on ESPN Radio that the Phils and Mets are each scoreless through two and I let out a mini fist-pump. Again, she's not impressed.
8:02 PM:
I get
MLB.tv
fired up in time to hear Tom Seaver hypothesizing that the Mets batters would begin to get to Floyd because it is the second time through the lineup. Nice try Tom, Floyd gets Piazza and Cliff Floyd to ground out on the first pitch.
8:14 PM:
Yes, I know this is a blog about Gavin Floyd, but I can't help but be glad for Pat Burrell when he hits a homerun, putting the Phils up 2-1 through 4 innings.
8:29 PM
: In the fifth inning, Floyd gets screwed on a call by the umpire on an outside fastball to Todd Zeile, who walks on the pitch. Fortunately Eric Valent hits into an inning ending double play on his first pitch following Zeile. Phils up 2-1 through the top of the fifth.
8:43 PM:
If I had to listen to Tom Seaver announce every game I would wear earplugs. So far he has railed on every hitter for striking out 100 times in a season.
8:47 PM
: Floyd's 20th curveball of the game (top of 6th inning) gets Mike Piazza to ground into a double play. Through 6 innings Floyd has thrown 48 of 77 pitches for strikes, has struck out 4, walked 3, given up 4 hits - one of which was a solo homerun, and induced two double plays. Phils up 3-1.
8:59 PM
: Larry Bowa sends Gavin Floyd to bat with two outs and men on first and third in the bottom of the sixth. He grounds out, but given the way he has pitched so far and given the way the Phils bullpen has been, I think it is the right thing to do, we will see how it pans out with David Wright, Gerald Williams and Jason Phillips due up in the top of the 7th.
9:05 PM
: Floyd walks David Wright on seven pitches.
Roberto Horrendez
is warming up in the bullpen. Can't we help the kid out a bit more than that?
9:12 PM
: Floyd must have realized that Horrendez is warming up because he gets two fly outs and a strike out looking to end the inning. Phils up 3-1 through the top of the 7th inning. Bowa's tactics in the bottom of the sixth panned out.
9:36 PM
: The Phillies tack on 5 runs in the bottom of the seventh. Rheal Cormier takes the mound in the top of the eighth with the Phillies up 8-1. Gavin Floyd's final line in what looks to be a Win in his major league debut is 7 IP, 5K, 4BB, 4H, 1ER, 57 of 95 pitches for strikes.
I'm impressed.
Archives